Buttons on control panel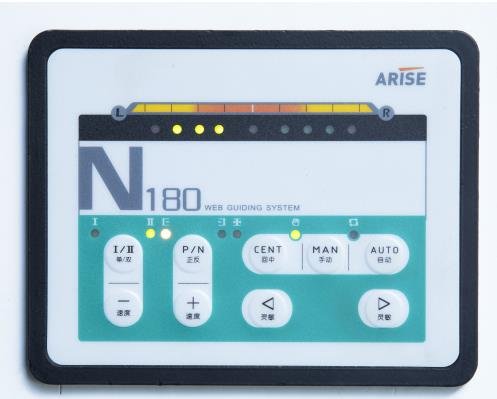 Operation process
After loading the paper roll and finishing the material feeding job.
Press the CENT button, and the unwind stand will return to the middle position.
Choose detect sensor mode I/II. Choose II, because the DOINMC machine adopts an ultrasonic sensor.
Choose P/N. It controls the drive motor's movement direction. Move to the machine operation side or move to the machine transmission side.
Inspection steps:
If you choose P mode, the sensor detects the material operation side shifting, and the drive motor guides the material to the transmission side moving. If this situation happens, that means you choose the correct mode.
If the sensor detects material operation side shifting, the drive motor also moves towards the operation side. Please press the P/N button to let the material move to the transmission side.  And incidcation light will flash.
Remark: machine operation side we mentioned above is the touch screen located side.
Press MAN, and choose manual mode. Start running the machine if the material feeding is not straight. Under MAN mode, press <i or i> , the whole unwind stand will move left or right.
After the material goes straight. Press AUTO button. Under AUTO mode, the button <i and i> controls the sensor detect the sensitive degree. Usually, we adjust to the middle degree. Please see the light below:
The sensitive degree increases from L to R. In the picture above, the sensitive degree is middle.
If the sensor fails to track the material edge, please increase the sensor tracking sensitivity degree.
Drive motor speed adjustment. Press -, the correction motor speed slows down. Press +, the correction motor speed increases. Normally, we adjust to middle degree. Please see the light below:
The motor speed increases from the R side to the L side. In the picture above, this means the speed is at middle position. Increase the pace slightly if the motor correction speed seems too slow.
Remark: If the controller is under MAN mode, the motor speed up and down function cannot use.
If the controller is alarmed, the correction motor reach the limit position. Please go back to MAN mode, adjust the unwind stand position. Or Press CENT button, and restart the adjustment from the first step. After the adjustment is done, shift back to AUTO mode.
N180, The maximum correction displacement value is 100mm–Please well note.
If your machine did not adopt this N180 edge position correction system, please contact us for the details of other brands we use.