The jumbo thermal paper slitting machine could make different sizes of small paper rolls for the POS/ATM/ECG/cash register print machines.
Tips for thermal paper slitting machine purchasing
1. Raw thermal paper roll size
You could choose according to the maximum paper roll width in your hand. Our machine has 600mm, 900mm, and 1100mm as an option.
2. Final product roll with core or coreless
with paper/plastic core, please choose the RJ-F series.
Coreless, please choose the RJ-W series.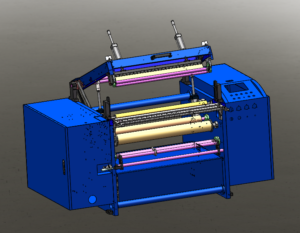 3. Target slit width
Standard lower cut ring size is fixed. We got 56mm, 60mm, 79mm, 80mm, 85mm, or more. We offer TWO sizes for free. Another size could be customized per cost. Or by adding enough space rings for the lower cut shaft.
4. Rewinding shaft OD
Rewinding paper/plastic core size decides the rewinding shaft OD. The popular shaft sizes are 12mm, 14mm, 15mm, 18mm, and 25.4mm.
After confirming the above parts, our staff will help you choose the machine model for you directly.
At DOC, we believe that our customers should get the most suitable thermal paper slitter, and it's also environmentally friendly. We offer different configurations that will make customers get more reasonable output. All the standard machines' delivery time is 30-45days after deposit. Choose suitable machine functions for your operators; they deserve it.
Amazing functions on the thermal paper slitting machine
1. loading stand
build-in stand with air shaft/separate pneumatic loading stand with air shaft/hydraulic shaftless loading stand
2. tension control
unwind constant tension control/PLC unwind&rewind tension control/taper tension control
3. other functions that could inline with the paper slitter
auto glue and tail cut-off device
separate coreless rewind shaft pusher
auto core loader
paper roll delivery unit
heat shrink film packing unit
1-2 color inline printing unit
Our thermal/fax paper slitting machine is developing history
In the year 2004, our first generation machine comes out. It is mainly for fax paper roll (210mm width) slitting and rewinding.
After years of running, the cash register tape becomes more and more popular. The slit width is 56mm, much smaller than the fax paper roll. Thanks to the invention of the banana roll, it solved the end roll overlap problem when rewinding narrow width thermal paper roll.
In 2014, with the help of our Southeast client, we updated the 4th generation of our paper slitter. The critical point is the vertical type of lay-on roller, making the end rolls tenser. And the maximum rewinding diameter could reach 260mm. It can also do water-active kraft tape/gummed kraft tape slitting and rewinding.
From then on, the machine application fields become broader and broader.
After reading the above words, please get in touch with us if you still cannot decide which model to buy. We got a professional sales team for pre-sale and after-sale both. We will create good customer service. Varieties types of paper roll slitting and rewinding machines are waiting for your picking up.
Ask for a quote, then.